The 2023 Tennis Made Simple sessions starts week of April 4th at Heritage Hotel Tennis Court in Southbury) , and continues throughout the year. Classes Fill up quickly so sign up below
Sign Up. Private Lessons, 5 week junior, adult
& Junior Summer Camps also available.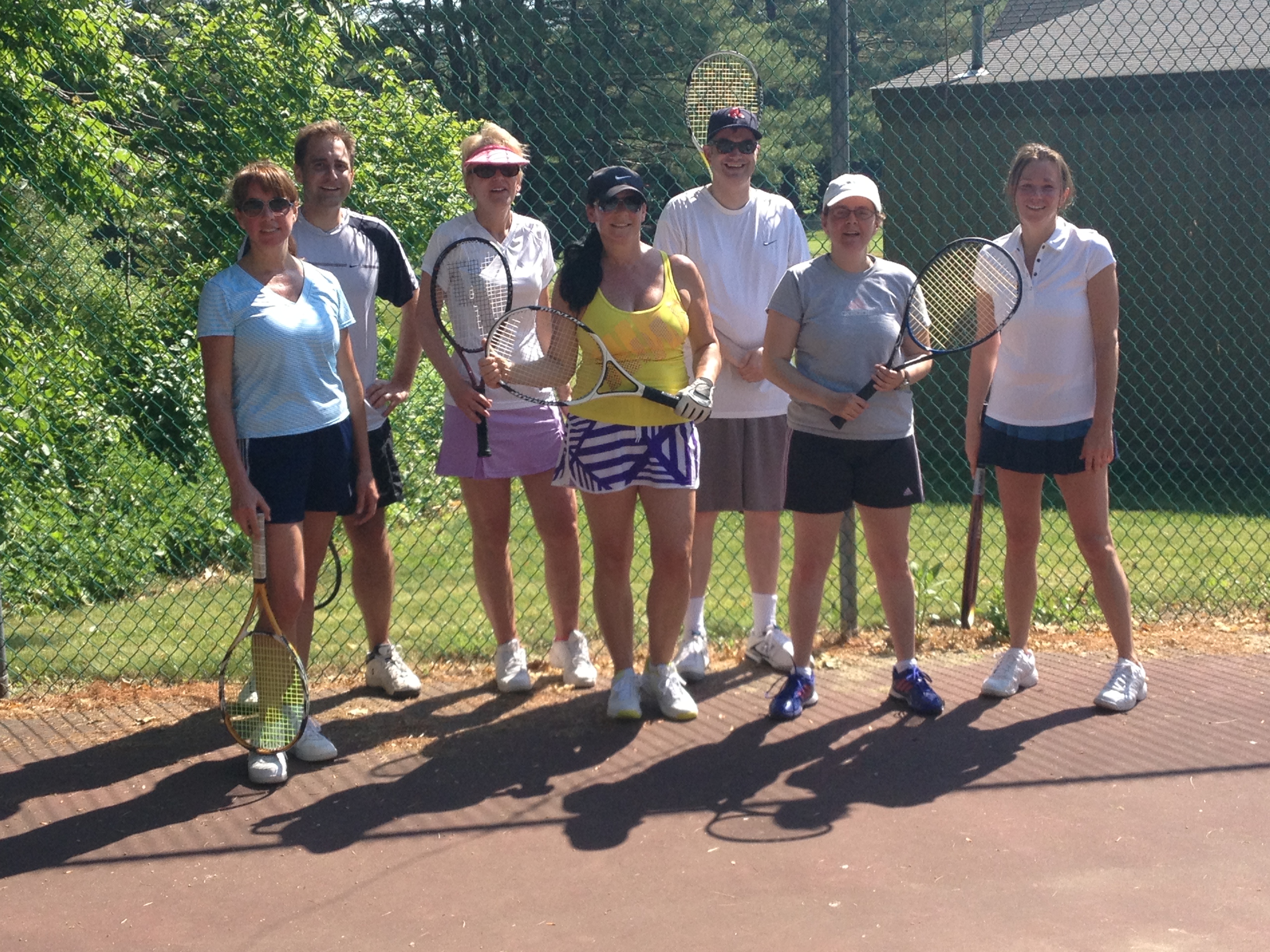 Imagine, just for a minute...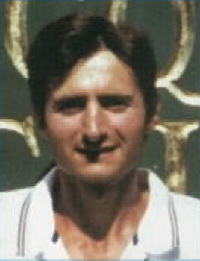 It's 35 days from now, and your game has really improved dramatically
You're in great shape.. and best of all, you're enjoying tennis more than ever !'
Your kids are loving it and keep asking you to play tennis !
Sounds crazy, or impossible?
... Then keep reading to learn how players of all levels are achieving these results,
with Tennis Made Simple
Spring /Summer/Fall/Winter 2023
From Val Stoiana - Tennis Professional
To: All Tennis & Fitness Enthusiasts
Can you appreciate the value of a simple and effective way of honing your tennis skills, getting a GREAT WORKOUT and having FUN ?...
... Then I invite you to keep reading!
Below you'll find out why my Tennis Made Simple program allows the whole family to
HAVE FUN IMPROVE FAST STAY HEALTHY.
You'll also find out...
What you can expect and....hear from PLAYERS that have benefited from the Tennis Made Simple way
Beginner , Intermediate or Advanced Junior & Adult Player...
Let's Find the Right Group for YOU!!
Let's be clear right out of the gate...
I'm not into cramming a lot of players of different abilities together...
Let's face it, that's no fun.
You will be placed in a level appropriate group, where you won't be over challenged or under challenged.
Every effort is made to make sure you don't get stuck in the wrong class.
Read What My Students Are Saying !
Yes, this is what you can expect ....
... And these are just a FEW examples .There are many more.
Always gives cheerful clear instruction Offers fine tips. Keeps on top of my playing.
E mails tennis guides...This is very helpful also.

Charlotte Chamberlin

Southbury, Ct

"Val Stoiana improves your tennis and keeps the fun factor in the game. He is truly knowledgeable and knows how to bring your tennis to a completely new level. If there is anything bad I could say about him it would be that there aren't more Val's out in the tennis world."

Niclas Ingamarsson

Woodbury, Ct

Loved my experience with Val. I learned a lot in such a short time.

Josephine Ferry

Oxford , Ct

Val is a very creative, energetic tennis coach. He works various aspects of the game and gives customized tips. He knows his clients strengths and weaknesses well and works on fine tuning at every session.

Linda F. Kroha

Southbury, Ct

100% improvement in my tennis game. Val addressed the areas I needed to work on helping me to get more out of the game.

Alicia Bennett

Southbury, Ct

Val, You make learning how to play tennis FUN! You have the right balance of patience and determination...that which allows me to continue making the same mistakes knowing that eventually I will get it right and become a better player.

Leslie Bacigalupi

Southbury, Ct

Val, love what you've shown me. You are always ready to answer and show myself and the group any questions we have. You have taught me to learn tennis while having a great time. I enjoy very much having you as my pro. I look so forward to our lesson every week. Thank you for a great time.

Pat Kelley

Southbury, Ct

I enjoyed the lessons and the fact that everyone seemed to be at slightly different levels but it still worked out. I had not played in several years and it was a nice way to get back into the game

Pam Curley

Southbury, Ct

Was hesitant to join but overall had a wonderful learning experience for this novice player. Benefited greatly from personalized attention in a group setting.

Laura Lawhon

Southbury, Ct

Val, you have a wonderful international presence, and you provide minute to minute feedback, while you are with a group of players. This is rare, I believe.

Gloria Filippo

Southbury, Ct

Val is an incisive technician who pinpoints your weaknesses (and strengths) and steadily improves them. His methods are very effective, and he's a pleasure to work with.

Joe Godfrey

Woodbury, Ct

I've truly enjoyed playing tennis these past months. I feel that in such a short time I have learned so much and continue to get a good workout whenever I play. I like getting the instant feedback when a shot I make is not hit properly. You have a good eye Val for seeing what the problem is; whether the ball was hit too hard, soft, high, low, on the sweet spot or not. It's very helpful to hear right away what needs to be changed so that I can work on it right then. Also, even though the groups talents are all different, you do a great job of keeping everyone on the ball. I've really enjoyed playing tennis and hope this aging body will serve me well!

Michelle Geary

Southbury, Ct

You make learning the game of tennis fun and keep it interesting by focusing each class on something specific and different from the prior week to be sure everyone can learn all aspects of the game.

Amy Gulick

Southbury, Ct

I have been taught by Val for the past year. I was a college tennis player whose game was definitely "rusty". I had not played with any regularity and wanted to get my game back to a solid level. Val encouraged me to add topspin to my forehand helping me to stay competitive with higher level players. I was very pleased because over the summer I made it to the finals in the LWCC ladies singles and doubles. Hopefully, I will continue to improve in terms of my tennis results with more practice.

Susan Cannizzaro

Washington, Ct

Val is a great instructor with lots of patience and humor, but also great knowledge and love of the game of tennis. He encourages you while offering tips to help you improve your technique at whatever level you're at. I would highly recommend him.

Lynn Zelem

Prospect, Ct

Val not only teaches tennis fundamentals but he includes strategy and ways to 'think' about playing the game that help improve player performance at any level. I also appreciate that Val takes a 'cardio' approach to his lessons, because when I'm through with a session I know that I had a great'work out' in addition to (trying to) master the game of tennis.

Kelly Haskins

Bethleham, Ct

A positive experience all around. I got to play some good tennis a couple of times a week. It had been a long time (since high school) that I was able to play as often. I also learned good techniques that I continue to use (such as continental grip for volleys, overheads and serves (although I do not get to serve much when I play in the clinics).

Laura King

Southbury, Ct

I learn a lot and it's fun and productive. His tips remain with you even when Val is not there.

jan wildman

New Milford, Ct


Val has improved my game by providing constructive feedback, technique demonstration, drills/games to assist me in improving and expanding my tennis game. He's also a fun and motivating instructor.


carla benoit,

Southbury Ct

Val provides team training with a personalized approach. I value a coach that trains a team while at the same time coaches an individual.

He's helped me get back into the "swing of things". I am not a great player but I have definitely seen improvement.

Jane Real

Woodbury Ct





I learned the reasoning behind how you hit your shots. The advantages and disadvantages of specific shots and how to execute the shots properly. All said it doesn't mean I can do them but now I have something to think about and try to do it right. You made learning fun and informative. I think we all had a good time while we hopefully were learning. Some of it did sink in.

Sue Spengler

Brookfield Ct

The tennis experience has been a wonderful process for me. The clinic provides an experience to develop many skills, focus, balance, strategic playing.

Val, has patience, his coaching skills assists greating in the learning process.

The journey will continue.............


Maura Hein

Southbury Ct


I've enjoyed my 5 week session from both a social (a good way to meet other tennis players)and physical (learn & improve strokes) point of view. The environment is a non-threatening one in which each person, of different levels, can receive the instruction they desire. Two things I especially appreciated were, first, Val's comments as I was hitting to let me know what I was doing incorrectly and how to rectify the problem. Secondly, I liked the variety of drills in which we could practice our shots. I find that method much more helpful than playing games (there is plenty of time for that outside of lessons/clinics). Thank you for the feedback you have given me during the clinics this session.

For me individually, I really appreicate knowing if I was hitting the way I was supposed to. Verbal feedback during drills is important. Keep the variety of drills. Making them as game-like as possible without the 'stand around' time of a game situation.

Ginger Blinstrubas

Woodbury, Ct

My son, Joseph, had a wonderful experience taking tennis lessons with Val Stoiana. He was taught to play tennis in a fun way and developed a love of the game. We have seen steady improvement in Joseph's tennis game with each session. We would recommend Tennis Made Simple to any parent looking for a tennis instructor for their child.


Loiuse Bisch

Southbury, Ct

Val , your hot!!! no really because your easy to work with and I really liked the group of girls that you were able to put together


Well before I met you I had no game

Carole Walters

Woodbury, Ct


Val,
It was a blast! I like your approach to teaching tennis. I never feel nervous . It is easier to learn when you feel relaxed. I liked meeting new players as well.

Diane Stevens

Washington, Ct

MY SON HAS RECEIVED A GOOD START IN PLAYING TENNIS.VAL COVERED ALL THE BASICS AND AND HAS TAKEN THE TIME TO MOVE MAX THROUGH
A NUMBER OF LEVELS TO WHERE HE IS TODAY. GOOD PROGRAM.

Ron Wallerstein

Southbury, Ct

Tennis made simple has been a fun and enriching experience for me and my family. The instruction is insightful and positive and the drills are fun and quite a work out.The program is very good at teaching how to pay a point moving forward.

phil testa

Southbury Ct

Very good to start playing again and recieve good coaching as well. Small group size is beneficial

This has been a very good course to get back into Tennis. We have covered a wide range of techniques and advice has been honest in order to highlight what is going wrong. Repetition in the practice games helps build up each skill.

laurence orton

Southbury, Ct



Learning was fun. Seemed to progress from week to week. Reminders and tips were given often and in a positive manner.


john guerrera

Watertown, Ct

Tennis Made Simple is a fun way to learn tennis tips. In a group setting you can see what others are doing right (or wrong) and it reinforces what Val is teaching us. Also it gave me the opportunity to meet other tennis players and play outside of the lessons.
I was able to transition from just being happy that I hit the ball to being able to place the ball strategically. Val's tips gave me confidence to play at the net. Also really improved my backhand.


Keep up your positive attitude and making the lessons FUN!!


Debbie Fitzgerald, woodbury ct

Great instruction, positive, fun environment. When you work all day sitting - it's great to be able to learn tennis and exercise in a one hour slot outdoors. It was terrific.

You are a patient and knowledgeable instructor. You really give folks a lot of time and direction to improve their games.


Devon and Tom Wickens , Southbury, Ct

Val, You have brought me to a differant level of tennis I believe and improved my confidence as far as not being so frightened to play harder and stronger. I am not as nervous to be up at net. And I believe I owe this to you. Thank you Val.

Well, I think we play faster and harder. And you change things so much I'm never sure what you are going to do next. So that makes me stay more alert and keeps me on my toes. and as always you make it fun.

Sure, you are always adding new drills and letting me know what my weaknesses are. Helping me to understand what i'm doing wrong, without making me feel bad. And always, always making it a fun time . I always enjoy the class. Thank you Val

Pat Kelley , Southbury, CT

Your drills are very helpful, and the instruction and suggestions made sense and really helped.. I also learned a lot from watching you give instruction to others in the class. You seem to have thought of everything. The classes are well structured. I have thoroughly enjoyed my lessons.

Dottie Brdar,

Southbury Ct

Val, I enjoy your sessions. You make tennis fun, you never tire of correcting me when I makes mistakes, you do it always in a nice way. Your patience and understanding is so much appreciated. I always look forward to our sessions. I feel you always are helping. What ever weak area or needs to be corrected, you say and in a way that never offends me.

Pat Kelley

Southbury, Ct

Val is a great teacher, besides being very personable and professional. the clinics are relaxed and enjoyable.





Geraldine Jove

Brookfield, Ct

Val is wonderful. Aftwer starting just 4 months ago, I feel I have learned a lot and now am able to play tennis with my husband.

Michelene Todd

Woodbury, Ct

The experience has been great, I'm a better tennis player because of you Val, and I'm having a great time too! Thanks so much for your guidance and patience.

Becky Dooley

Southbury, Ct

I never thought at this age that I would be able to learn the sport of tennis and enjoy it. Val has been a consistent encouraging force, always positive but able to comment on the areas that need work. He is able to do this in a manner that makes anyone feels at ease while learning.The clinics vary in attendance and whether it is 4 or 7 week, Val keeps the drills running smoothly and everyone is challenged, never bored.

In addition Val maintains good contact through his special email tips. I have a long way to go but this has been a very special and worthwhile experience.

Jane Hinkle

Litchfield, Ct

I've done a few clinics with Val and always enjoy his lessons. He keeps it moving, challenging and fun. He's got a great sense of humor, which isn't always the case with tennis instructors. I think this keeps everyone relaxed and we all play better because we're not self-conscious about how we're playing. We just keep moving and having fun! My kids had a few lessons with Val and enjoyed them as well.

Hannah Cox

Newtown Ct

Val - I just wanted to thank you for fitting me in for the remaining Thursdays. I really enjoyed the class and look forward to continuing. I haven't had so much fun exercising in a very long time.

Thanks again,

James Crutchfield

Oxford Ct

I enjoyed every single day I played on your programs. I especially enjoyed the past Friday nite class where I was challenged more frequently and I deffinately enjoyed playing with Nick an Mary. Of cource i would love to hit the ball with you Val... But that is not going to happen until next year... I want you and the kids to have as good a winter as possible and keep swinging...

The best

Steve

I would prectice, study and work on my game with Val Stoiana any day of the week. I went to Tennis Central for about 6 months. Then on Apr 6th I started with Val and my game changed very quickly. I developed top spin, back spin and just overall game and court logic and shot technique. Val has practically been a mentor for me. if I can I am going to make room in my budget for Val in Apr. 2010...

Steve Wuerth

I simply can not describe how much I looked forward to tennis with Val. He is the best player, the best guy, the best teacher, the best coach and has a great sense of humor. If you don't have all those facets the gem won't sparkle...

Hi Val,

Just some quick feedback for you.

Carey was so thrilled yesterday. He had the best time with the group and told my husband and I he wished

he could have played for 4 or 5 more hours!

That is after a full day at school and 1 1/2 hours of volley ball after school (he is in the volleyball club).

He asked me to play with him after school today and he has NEVER done that!

So, Thank you Val. This is the first time in all these years that I have tried to involve him in tennis and he is

receptive and enthused.

Beth Canatta

Middlebury Ct

Hi Val,

I was starting to feel too achy and old to play tennis this year... but I had fun today! The music is a GREAT addition!

See you Fri.

Fran Trelease

Oxford Ct

I have started to play tennis after an absence of several decades and feel very lucky to have found Tennis Made Simple. I felt quite clumsy during the first few lessons, but as the first session comes to a close, I feel as if I have made some real progress. It's a great stress reliever and I look forward to every lesson. Val is a pro who clearly loves sharing tennis with his students. He uses a variety of teaching/coaching styles that keeps the class moving all the time! He has made me believe I can improve my skills with just the right balance of correction, humor and encouragement. Thank you,Val!

Susan Luchetti

Southbury Ct

I look forward to signing up again, I believe the classes for the next session starting the week of June 1, for me will be on Tuesdays and Fridays, starting at 9:00 AM. Please resend a new email and progress report.

Regarding you, you are a great Tennis Instructor, I am a real Newby to the game, and you have been patience and understanding. I am starting to feel more confident as a result.

I look forward to hearing from you.

Thanks so much.

LaVerne Blackwell

Newtown Ct
<![if !supportLineBreakNewLine]>
<![endif]>
My background...
Having played College Tennis on scholarship, Competed Professionally and Earned a Living Teaching Tennis full time, I understand tennis from 3 perspectives: Student, Players and Coach.
The following organizations continue to use my expertise:
The Towns of Southbury & Oxford have retained me yearly (since 2004) to run their tennis programs

The Heritage Hotel (Southbury Ct) has made me their Resident Tennis Professional (since 2002)

Rumsey Hall School (Washington Ct ) has contracted me (since 2004) to run winter programs

PES , LMES & GES Tennis Enrichment After School Programs
Certifications:
Playing Background:
1985 Ranked Top 15 Eastern Tennis Association Men's Singles

1988-1990 NCAA Division 1 College Tennis-St. Johns (full scholarship)

1990 Ranked Nationally Top 15 Mens Singles-Romania

1991 Romanian National Team (Davis Cup Team)

1992-1993 Competed in professional prize money tournaments

High School Coaching

Newtown High School Varsity Boys Coach 1996, 1997 & 1998

Westover School Varsity Girls Coach 1999 & 2000

Club Coaching

Litchfield Country Club-Head Pro 1997 & 1998

Westport Tennis Club-Head Pro 1994-1995

Middlebury Racquet Club -Senior Pro 1995-2004
Twelve members of the Middlebury Rackettes, a USTA adult women's 3.5 team advanced to the New England District Championships, played August 6-8 in Portsmouth, N.H.
The team won two of its three matches in the tournament, taking the runner-up position in its flight, losing 2-3 to another team from Connecticut.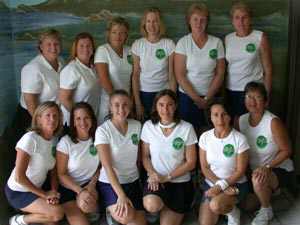 The first-year team of 19 local players was number one in its flight in the Southern Connecticut Summer League, with a record of 11 team wins and 3 losses, and the most individual wins, 48, over all teams in the three southern Connecticut flights.
Judi Platt of Woodbury is captain. The team is coached by tennis pro Val Stoiana of Southbury.
Court Time

Westport Tennis Club

Gene Kaplan

Newtown HS
Don't Miss Out If You Want to Burn Calories !
TennisMadeSimple is an effective total body workout. You get excellent cardio and weight-lifting benefits . Tennis ranks fifth on the Consumer Reports list of the best calorie-blasting workouts ahead of swimming, rowing, hiking, walking, weight lifting and yoga. Tennis trails only to running, stair climbing, step aerobics and outdoor biking in its calorie-burning benefits, according to the Consumer Reports study.
Activity
Cal's/30 min.
(200-lb.person)
Cardio benefits
Resistance
benefits
Weight-bearing benefits
Upper body benefits
Lower body benefits
1
Running 6 mph
455
*
*
2
Stair Climber
409
*
*
*
3
Step aerobics
386
*
*
*
4
Outdoor biking
364
*
*
5
Tennis (singles)
364
*
*
*
6
Swimming (laps)
364
*
*
*
7
Rowing machine
318
*
*
*
8
Stationary bike
318
*
*
9
Hiking, no pack
273
*
*
10
Jazzercise
273
*
*
*
*
11
Golf (walking, carrying clubs)
205
*
*
*
12
Walking 3.5 mph
173
*
*
13
Walking 2.5 mph
136
*
*
14
Weight lifting
136
*
*
*
15
Yoga
114
*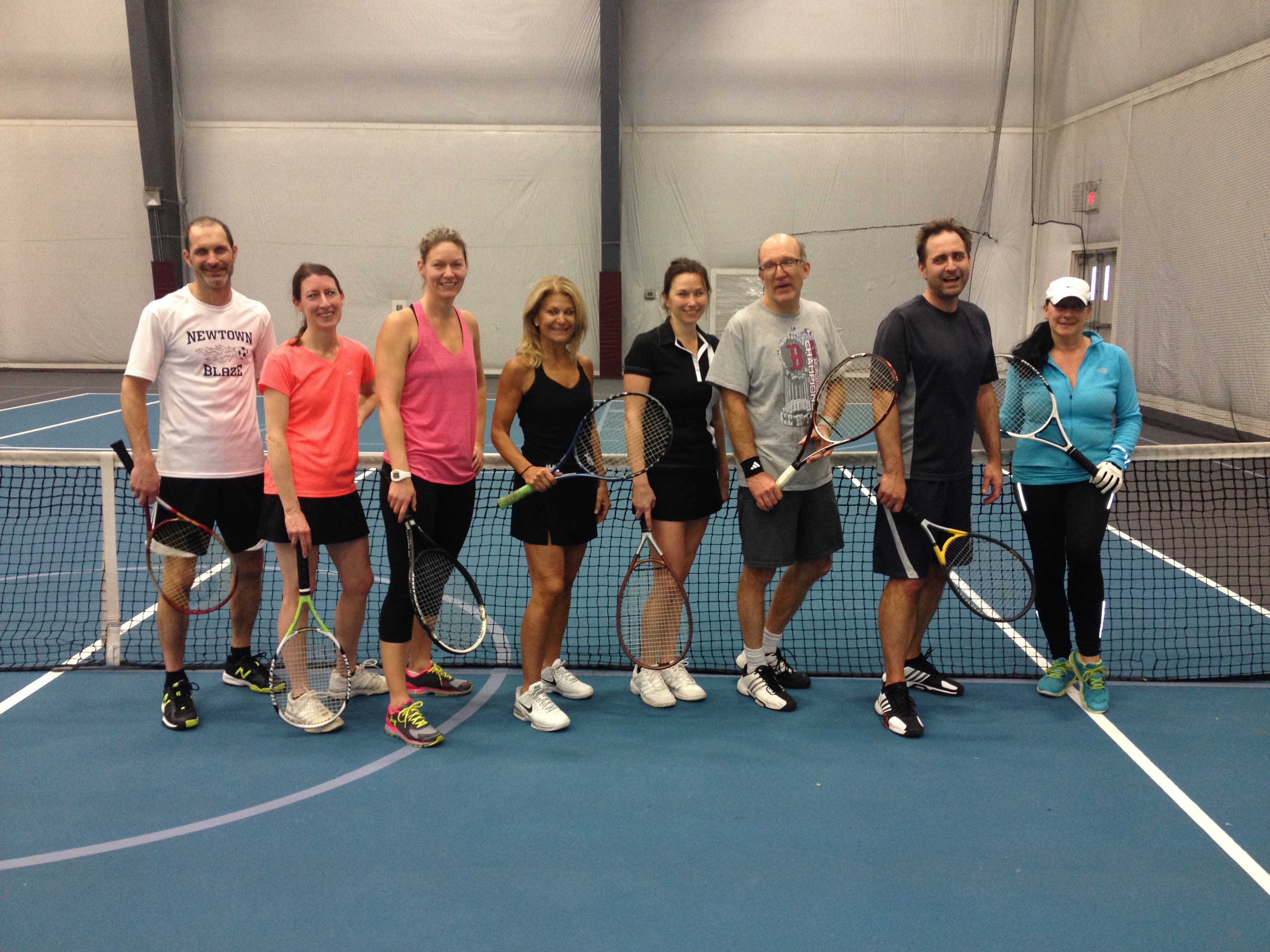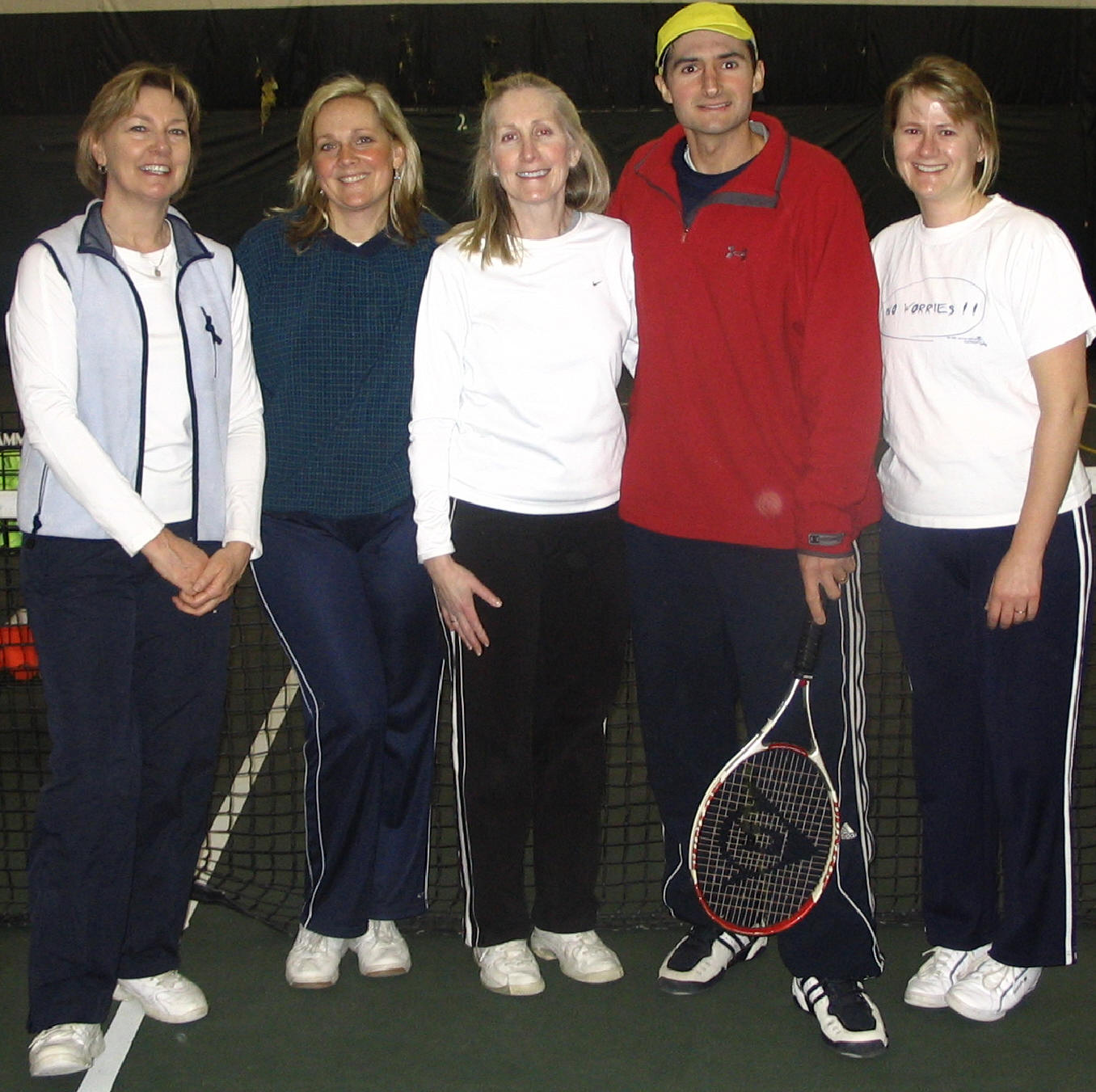 Join One of The Safest Activities
The American Academy of Orthopaedic Surgeons lists Tennis with the Least Amount of injuries!
Go to: https://www.tennisct.com/the-safest-sport
Basketball: 1,633,905

Bicycling: 1,498,252

Baseball: 492,832

Soccer: 477,647

Softball: 406,381

Trampoline: 246,875

Inline Skating: 233,806

Horseback Riding: 196,260

Weightlifting: 189,942

Volleyball: 187,391

Swimming: 149,482

Wrestling: 136,055

Golf: 131,975

Roller Skating: 115,763

Gymnastics: 86,479

Tennis: 78,479
Your Heart Gets Strong & Your Blood Pressure Gets Low
.
Tennismadesimple offers awesome cardio vascular benefits. A recent study by Harvard Medical School says playing tennis offers 50% less chance of developing heart disease and it lowers blood pressure. That is significant considering heart disease is the number one killer among men and women in the US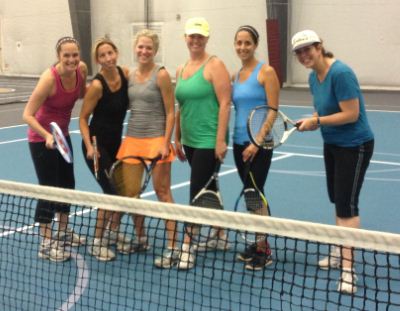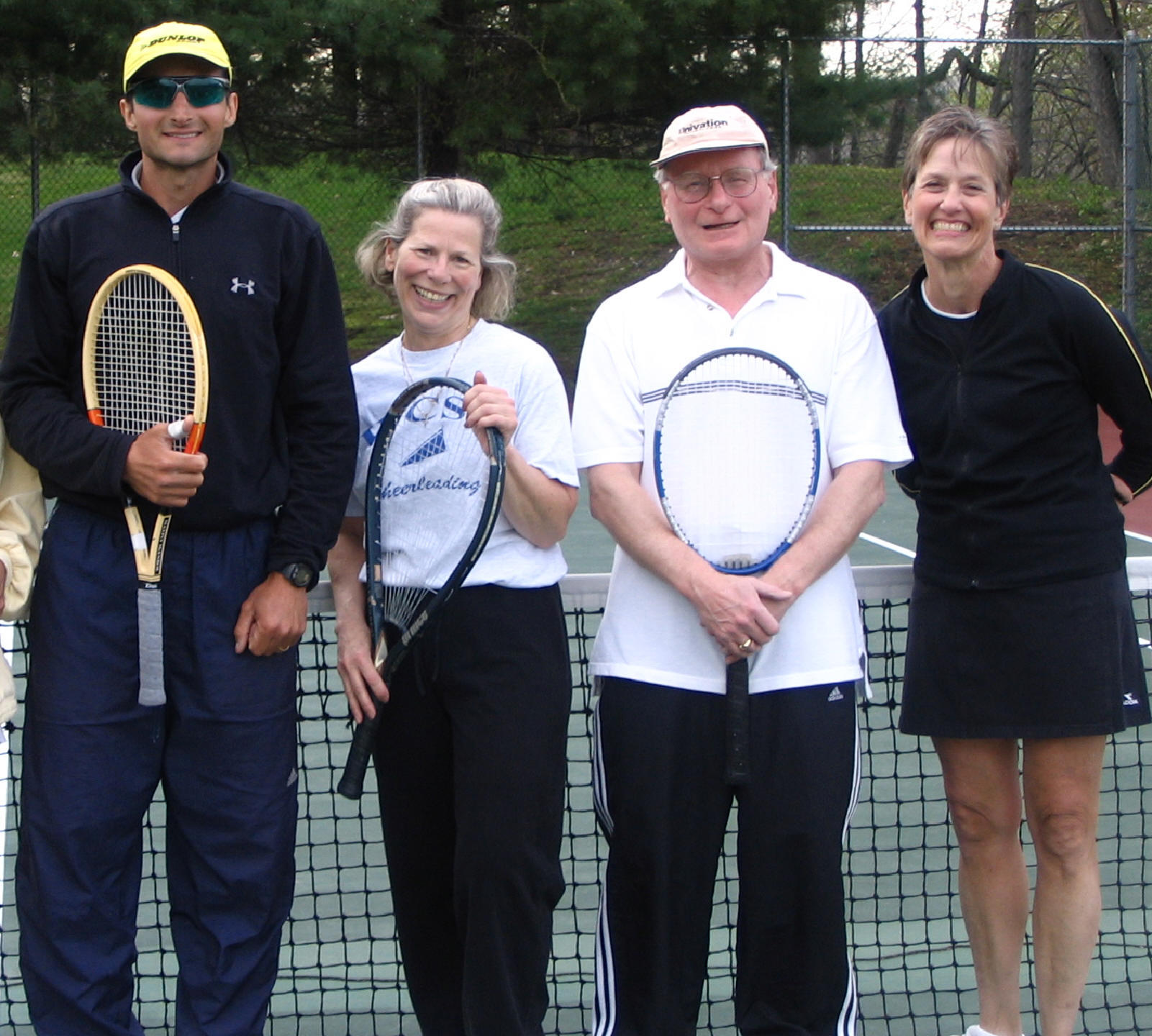 Sign Up Below . Location is Heritage Hotel -Southbury (April-Nov) & NYA (Newtown) & Rumsey Hall School ( Washington) Dec-March
A comprehensive curriculum, plus Cardio Tennis !
TennisMadeSimple strives to teach a Variety of Skills :
Technique : proper form
Strategy :play with purpose
Fitness :burn calories, relieve stress have FUN & strengthen your heart (Cardio Tennis)
Technique...Gain a better understanding of
the best way to hold the racquet and why

how to time the ball properly

what should your swing shape look like

how to cover the court more efficiently

You Will improve dramatically

serve


one-handed backhand groundstroke


forehand groundstroke


two-handed backhand groundstroke


forehand and backhand volleys


returns of serve


overhead


lob


drop shot
And more...!
Strategy...Outwit your opponent
How to play the geometry of the court

what to do with a short ball

when should you aim the ball low

when should you aim it deep

what to do when your opponent comes to net

how to play defense or offense
Plus a few more...!
You'll Love Cardio Tennis!

Cardio Tennis...Get in shape for anything
achieve your effective heart rate zones with ease while having fun

burn more calories than singles or doubles and many other fitness options

fun group activity where players of all ability levels benefit

focus is on getting a great workout while "playing" tennis
Feel Confident, Knowing You're Signing
Up for the Same Program That's Created A Ton Of
Success Stories !
Here's What to Expect out of each Adult Session
personal Tennis Advisor working hard on your game

level appropriate class or other option will be discussed

latest techniques, drills and equipment

be treated like a CLIENT not just a customer

maximum of 8 players on a court & we usually use 2 courts when available

$10 special drop in rate for current enrolled player to try other classes

make up missed classes and rainouts

rainout handled by extending the hour or transferring into another existing class

individual make ups subject to availability

outdoor sessions (Apr-Nov) are 5 weeks long and meet twice a week at The Heritage-Southbury Ct

indoor sessions (Nov-March) are 8 weeks long and meets weekly at Newtown Youth Academy or Rumsey Hall School -Washington Ct.

balls and loaner demo rackets ($10 rental fee) provided and available for purchase ( less rental fee paid)
All This for Only $100* ..... ! No Membership or Initiation Fees and A Ton of Benefits and Value *new player rate
Yup, that's right. Adults meet twice a week for 5 weeks. 10 hourly lessons for $100.
| | |
| --- | --- |
| | Yes ! I'm Ready to Up My Game |
Sign Up Below .
Location is Heritage Hotel -Southbury (April-Nov) . NYA (Newtown) & Rumsey Hall School ( Washington) Dec-March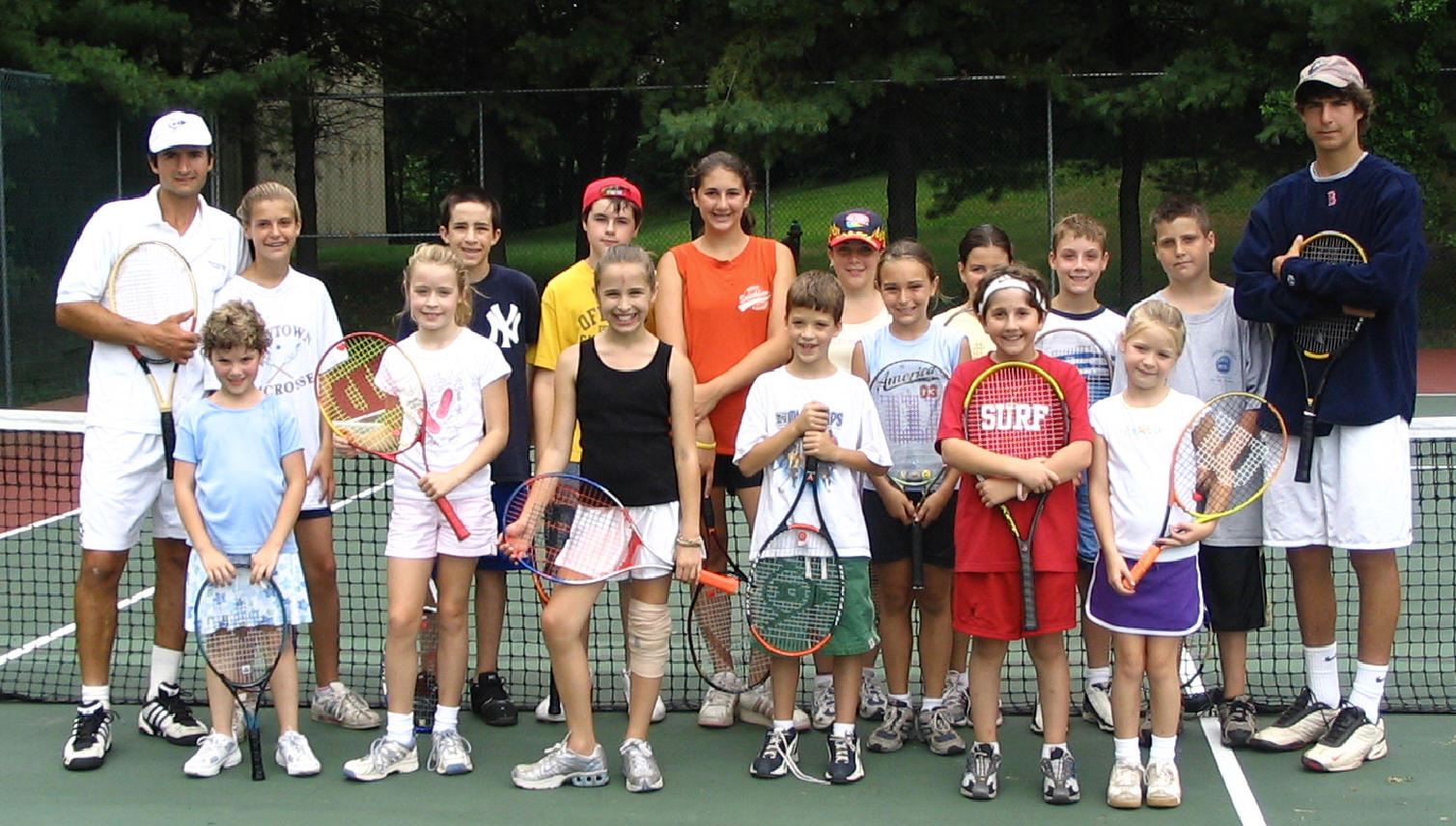 Your Kids Will Love "Progressive Tennis"
!
Whether your junior player is 5 or 15 ... The TennisMadeSimple for kids program... will teach the proper foundation , using a fun, games based approach . I embrace the "Progressive Tennis" approach ( An age appropriate slower ball and smaller court is used which results in a faster learning curve)
"Progressive Tennis" , has been imported from European countries such as France and Belgium. It has a proven track record for performance www.tennisplayandstay.com
Here is how and why IT WORKS ..
slower balls, smaller courts and racquets are used

juniors are allowed to develop efficient technique and to implement advanced tactics sooner than with a normal ball on a full court

Eight and under kids will play on a court that is 36 feet long and 18 feet wide & 2'9" net

Ten and under juniors use the 60'court and a regulation net

Eighteen and under kids use a regulation court and net
Feel Confident, Knowing The Program is Run by a Qualified Professional Who Cares about Your Kids !

4 Day Junior Summer Camps
scroll down for sign up form
Here's What to Expect out of each Junior Session
faster learning curve means more FUN

latest cutting edge techniques, drills and equipment

maximum of 6 players on a court, with an assistant pro available when needed

outdoor sessions (Apr-Nov) are 5 weeks long and meet twice a week either at The Heritage or Community Park-Southbury Ct

properly sized loaner demo rackets available for rental ($10 for entire session) or purchase
| | |
| --- | --- |
| | Yes ! I'm ready to invest today in child's my Tennis ! |
JUNIOR 5 WK SESSION SIGN UP
(your personal info remains private & confidential) *
2023 JUNIOR 5 week sessions $125

meets 1hr/week for 5 weeks

mon, tue, wed, thu 4-5pm /12 -17 yrs & 5-6pm /6-11 yrs

Sat 11-12pm all ages

Session1 Spring

4/3-5/1 CXLED

Session 2 Spring

5/8-6/5 CXLED

Session 1 Early Summer

6/12-7/10

Session 2 Summer

7/17-8/14

Session 1 Fall

9/5-10/2

Session 2 Fall

10/19-11/6

Session 1 Winter

indoors NYA or Rumsey

Session 2 Winter

indoors

NYA or Rumsey

2023 JUNIOR 4 day (10am -12Pm) Camps-$200
4 days sessions -meets 2hr/day
Session 1 July 5-8, (rain fri July 9th)
Session 2 July 10-13 , (rain date Fri July 14th)
Session 3 July 17-20, (rain date Fri July 21th )
Session 4 July 24-27, (rain date Fri July 28)
Session 5 July 31-Aug 3, (rain date Fri August 4)